The Benefits of Using a Tablet Device When on The Move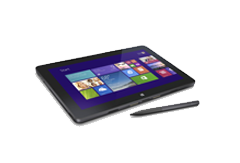 A tablet is a must have device, they're portable, boast powerful hardware, features and come with an array of handy apps. If you've been thinking about adding a tablet to your collection of tech devices, then stop thinking and get buying. Here's five reasons why you should buy one today.
Portable
Compared to computers and laptops, tablets by design are considerably smaller and lightweight and are easy to carry around. Tablets are perfect for commuters and those who are constantly on the go, users can simply grab their device and get started. Even laptops, which are supposed to be mobile devices can take a while to load, and they often get hot quickly making it uncomfortable to hold and work on the move.

Battery Life
We're all familiar with the lack of battery life when using a smartphone, and sometimes laptops can be the same. With a tablet you can get nearly a whole days use out of it, meaning you don't have to search around for an electrical socket and carry a charger around with you.
Apps
Did you know there are over 400,000 custom apps especially for tablets? So no matter what you're in to, fitness, health, reading, beauty, travelling or sports there is the perfect app for you. There are thousands of apps out there that are tablet compatible and many are free, so you won't have to spend a penny. Media outlets have specifically re-designed their format so that magazines and newspapers can be read via tablet devices. The tablet is the perfect device for showcasing work, news reports, pictures and videos.

Productivity
Due to their size tablets are perfect for carrying around with you, so you can access emails on-the-go, browse the internet, read or do work. Tablets are increasingly being used for basic office tasks such as managing schedules and checking emails. They're also perfect for meetings as your can write any notes on the tablet, store them and then download any documents as and when you need them. That way, you don't have go through piles of papers looking for your notes. Microsoft, Apple and Google have developed a series of tools for tablets so you can access documents, spreadsheets and presentation tools while on the go.
Tablets are also perfect for students who normally carry books around on a day to day basis. Books can be downloaded and stored digitally, which will not only save money but it also might save your back too.

Price
We all know that people are driven are price, and that's another reason we love the tablet. They've never been more affordable, which is great news.
The latest tablets combine stunning design, great performance and the portability you need when you're on the move. Tablets are the must have mobile device! Check out our range of tablets here.