Business-Class Optiplex Workstations Range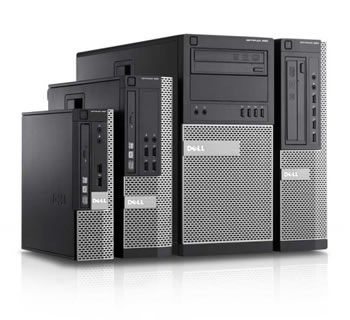 The Dell Optiplex range of business-class workstations is the ideal choice if you're looking for a PC with all the benefits of a desktop computer, but you don't want to accommodate a bulky PC tower on or underneath your desk. Thanks to some impressive engineering by Dell, these compact and elegant designs pack plenty of processing power and storage space into a small form factor. As an alternative to the compact tower, the All-In-One range even incorporates the PC itself into the same frame as the display and all the essential ports.
The result is a range of affordable and extremely practical PCs which offer energy efficient, dependable computing. This is ideal for the corporate and business environment, as well as schools and other educational institutions. Other Dell Optiplex models are perfectly optimised for home office use, so depending on your requirements you can find a model in this range for almost any set of requirements.
It is the choice of form factors, processors and operating systems that makes Optiplex workstations flexible enough for any situation. Optional touch screens, impressive FHD displays, advanced 5th generation Intel Core processors, extra-slim, compact designs and many more professional-standard features are all available from various models in this line.
Dell recommends the Optiplex PC range for businesses and organisations with simple to complex network environments. A few of the specific benefits added by Dell to set them apart from their closest competitors include the following.
System health indicators and diagnostic systems for easy identification of status, so it's easy to identify and resolve any issues that may affect your work.


Help reduce energy consumption with Dell Energy Smart advanced power management features, saving money as well as the environment.


Remotely manage multiple networked desktops using the specially-designed Dell Client Manager Software, which is included on Optiplex systems as standard.
At ITC Sales, we are happy to recommend the Optiplex range for almost any type of user, especially if you find the All-In-One design suits your needs. Given that Dell has gone to great lengths to balance performance and practicality in both the Small Form Factor and All-In-One Optiplex models, there's not much more anyone could ask from a desktop PC.

On the other hand, given the suite of tools Dell has chosen to include pre-installed on its Optiplex models and the specifications for each price point, it's safe to say that this range is first and foremost intended for the following purposes:


Medium or large scale corporate and business use, for example in a reasonably large office with a number of employees working on various computing tasks in a limited physical space.
Education environments such as schools, colleges and universities that need to cater to the computing needs of their students and staff, again with a defined area allocated to computers and desk space.
Home or small office use when desktop space is restricted and relatively high specifications are required on a limited budget.
The Current Dell Optiplex Desktop Lineup
| | | | | |
| --- | --- | --- | --- | --- |
| | | | | |
| Dell Optiplex | 3010 | 7010 | 9010 AIO | 9010 |
| Processor Types | | | | |
| Form Factors | Mini tower, Desktop Small | Mini tower, Desktop, Small or Ultra Small | All in one with 23" Screen | Mini tower, Desktop, Small or Ultra Small |
| Max Memory | | 16GB | 16GB | |
| Chassis | | | | |
| Operating Systems | | | | |
| Large Network Optimised | | | | |
| More Info | | | | |
| | | |
| --- | --- | --- |
| | | |
| | | |
| Dell Optiplex | 380 | 960 |
| Processor Types | | |
| Form Factors | Mini tower, Desktop, Small | Mini tower, Desktop, Small |
| Max Memory | | 8GB |
| Expandable Chassis | | |
| Operating Systems | | |
| Large Network Optimised | | |
| More Info | | |