Small Business Vostro Systems Range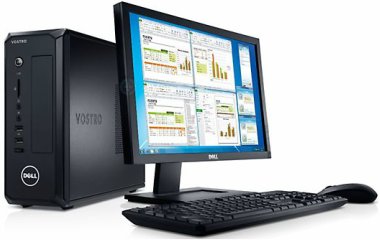 Dell Vostro desktops are built specifically for the unique needs of small businesses and are ready to be customized with the features and software you want.
With a choice of Slim Desktop form factor or Mini Tower, together with exceptional performance to price ratio the Vostro Desktops can provide your office with a compact, stylish workhorse that won't let you down.
ITC recommends the Vostro Systems Range for:



Medium and Small Businesses
Telecommuters
Students and Small or Home Office.
General Purpose Educational Use.

An excellent all round choice with great performance at an affordable price point.
Vostro Provides the tools and services you need to keep focused on your business and not your IT. They also offer business-ready features and durability at great value, so you get the most for your technology investment.
Latest Dell Vostro Desktop Lineup
Dell Vostro

270 Mini Tower

CPU Types

CPU Speeds

Energy Efficient Design

Expandable?

Expansion Slots

PCIe x16 (Graphics): 1 Slots
mSata: 1 Slot

PCIe x16 (Graphics): 1 Slots
one Mini-PCIe, ½ length

PCIe x16 (Graphics): 1 Slots
(low profile/half height cards)

PCie Video Card Options

1GB ATI® Radeon™ HD 7570 graphics card
NVIDIA® GeForce GT 620 1GB Graphics Card
NVIDIA® GeForce GT 620 1GB graphics card

Integrated Video or
NVIDIA® GeForce GT 620 1GB Graphics Card

Integrated Video or
NVIDIA® GeForce GT 620 1GB Graphics Card

HDMI Port

Bluetooth as Standard

Wifi as Standard

USB 3.0 ?

USB Ports

8 ports
(4 Front, 4 back)
2 Front USB 3.0, 2 Front USB 2.0
2 Back USB 3.0, 2 Back USB 2.0


8 ports
(2 Front, 6 back)
2 Front :
2 x USB 2.0
6 Back:
4 x USB3, 2 USB2

8 ports
(2 Front, 6 back)
2 Front :
2 x USB 2.0
6 Back:
2 x USB3, 4 USB2

Drive Bays

3.5" Bays: 3 bays
(two internal, one external)

5.25" Bays: 2 bays

3.5" Bays: 2 bays
(two internal)

5.25" Bays: 2 bays

3.5" Bays: 1 bay
(one internal)

5.25" Bays: 1 bay
Previous Dell Vostro Desktop Range
Dell Vostro

200 Slim Tower

CPU Types

CPU Speeds

Energy Efficient Design

Expandable?

Expansion Slots

PCIe x16 (Graphics): 1 Slots

PCIe x16 (Graphics): 1 Slots

PCIe x16 (Graphics): 1 Slots

PCie Video Card

USB Ports

10 ports
(4 Front, 4 back)
+ 2 internal

8 ports
(2 Front, 4 back)
+ 2 internal

10 ports
(4 Front, 4 back)
+ 2 internal

Operating Systems

Drive Bays

3.5" Bays: 3 bays
(two internal, one external)

5.25" Bays: 2 bays

3.5" Bays: 3 bays
(two internal, one external)

5.25" Bays: 1 bays

3.5" Bays: 3 bays
(two internal, one external)

5.25" Bays: 2 bays