Small Business Vostro Laptops Range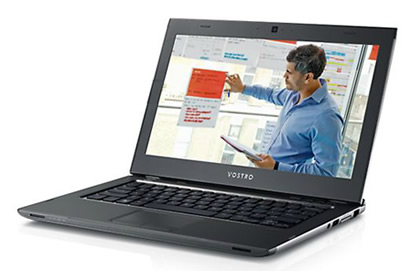 For excellence within a budget, here at ITC we see no better buy than the Dell Vostro range of small business oriented laptops. With plenty of options, from ultra portable to desktop replacement we are sure you'll find the laptop to fully meet your needs. Sleek and stylish design incorporating the latest in connectivity including USB 3.0 and HDMI together with the latest in storage technology in the shape of Solid State hard drives (SSD). The Vostro Laptop lineup is certainly a hard act to follow.

The Dell Vostro Laptop Lineup
For cost conscious performance we at ITC think The Dell Vostro Range of Laptops are without equal.
Dell
Vostro
Laptop Lineup

Vostro 3360
Vostro 3460
Vostro 3560
Vostro 2520

Weight

3.678lb/1.670 kg

4.92 lbs/2.232 kg

5.75lb/2.57 kg

5.2 lbs/2.36 kg

Thickness

18.6mm-19.2mm


28.1mm-30.1mm


28.8mm-32.5mm


31.5mm-34.5mm


Processor Brand

Windows®7
& XP Available

Maximum Memory


up to 4GB,
1600MHz


up to 6GB, 1600MHz


up to 8GB, 1600MHz


up to 4GB,
1600MHz

USB

3.0

3.0

3.0

2.0

Solid State Hard Drive Option

Battery Configs

6 Cell Battery

High Definition Display available

13.3" High Def
LED anti glare screen with
up 1366x768 resolution

14" High Def
LED anti glare screen with
up 1366x768 resolution

15.6" High Definition (720p) LED Display with AntiGlare
or
15.6" Full High Definition (1080p) LED Display with AntiGlare

15.6" High Definition (720p) LED with AntiGlare

WebCam
Option
Included

Optional

Fingerprint Reader

Dedicated Graphics Card Option

1GB nVidia GeForce GT 630M Discrete Graphic Card

AMD Radeon HD 7670M 1GB Discrete Graphic Card

HDMI Port

Vostro 3360

Vostro 3460

Vostro 3560

Vostro 2520